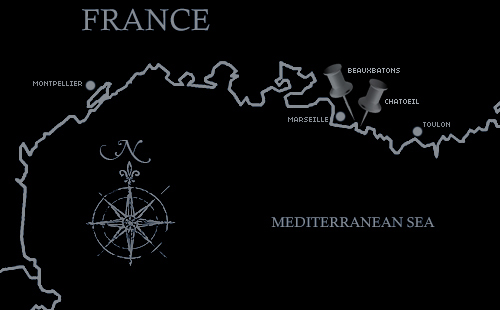 The beautiful chateau of Beauxbatons is situated on the shores of the Mediterranean sea, just southeast of Marseilles in the Alpine foothills. Since the school is located so far south, there is little use for fires, and the students wear light robes most of the year. During those chillier than normal days, students also have thicker robes. The average temperature is about 15 degrees Celsius; occasionally, the temperature can reach up to 23 C during the summer months and as low as 7 C during the winter. Marseilles, as well as Beauxbatons, receives its most rain during the months of January and November. The academy is, of course, hidden from Muggle eyes with many charms and enchantments. The château is in the baroque style, with a great deal of ornamentation both inside and out. The whole castle gives an impression of fairy lightness, and the construction has an airiness that would probably have been impossible to achieve without the aid of magic. The castle stands six stories high, with a eight story tower in each of the four corners. Classrooms are located on the second, third, fourth and fifth floors on the East side of the building, and the magnificent and extensive library occupies the third through sixth floors on the West side. Students live in little private rooms, located on halls. Each house has two halls, one for boys and one for girls.
The castle faces out onto the lawns which lead down to the beaches. Behind the castle stretch the beautiful grounds, with almost every sort of flower and tree imaginable. The extensive rose garden stands in one corner of the park, near the castle. The sweet smelling herb garden is behind the castle, near the kitchens. The park has many trails, suitable for either walking or riding, and there is a river that runs through the grounds of the school, leading to a waterfall just at the edge of the property. The Beauxbatons stables house Madame Colemeaux's precious Abraxans, among other special horses. There is a selection of horses available for use by the student body, as well as space to house the horses of the students who wish to bring them from home.
Ad blocker interference detected!
Wikia is a free-to-use site that makes money from advertising. We have a modified experience for viewers using ad blockers

Wikia is not accessible if you've made further modifications. Remove the custom ad blocker rule(s) and the page will load as expected.