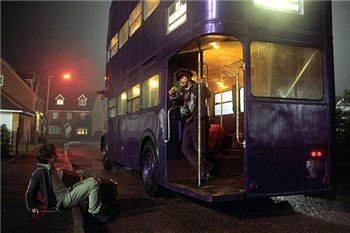 The Knight Bus is a triple-decker, purple AEC Regent III RT that assists witches and wizards by providing transportation. It operates at a very fast speed and obstacles will jump out of its way. To hail the bus, a witch or wizard must stick their wand hand in the air. The Knight Bus' conductor greets passengers and handles baggage.
During the day, there are just seats that are apparently not bolted down. The bus does not seem to have much in the way of safety features, as passengers and luggage alike are being thrown around the inside of the bus during its haphazard manoeuvres.
Inside, during the night, the Knight Bus has beds, curtained windows, candles burning in brackets beside each bed.
Cup of hot chocolate — 14 Sickles
Hot water bottle and a toothbrush in the colour of your choice — 15 Sickles

Ad blocker interference detected!
Wikia is a free-to-use site that makes money from advertising. We have a modified experience for viewers using ad blockers

Wikia is not accessible if you've made further modifications. Remove the custom ad blocker rule(s) and the page will load as expected.