This is the Quidditch pitch, Quidditch terrain. Games and practices are held here. You can also come here and play a pick-up game with your friends.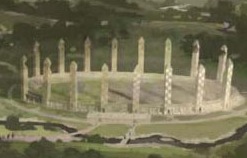 This pitch is built to international standers: an oval, 150 meters long and 55 meters wide, with a small central circle (60 centimeter diameter) in the middle for releasing the balls. At each end there are three hooped goal posts, 15 meters high, surrounded by a scoring area.
Around the edge of the pitch are stands; enough to seat the whole school.
Ad blocker interference detected!
Wikia is a free-to-use site that makes money from advertising. We have a modified experience for viewers using ad blockers

Wikia is not accessible if you've made further modifications. Remove the custom ad blocker rule(s) and the page will load as expected.